PERSONNEL EXPERIENCE
---
MR. GBOYEGA ADELEYE - MANAGING DIRECTOR

M. Eng. Computer Engineering, MBA. MNSE, COREN Registered Engineer. Mr. Adeleye is the Managing Director of the company. Prior to his present post he has worked with industry leading companies, which includes Delta Telekommunication Services, Debis Computers and latter Chams Nigeria Limited. While in Chams he served as a senior Engineer in a customer service group and subsequently led the group for a year. He then served as the technical assistant to the MD where he engaged mostly in research. After this he lead the Networking group, which installed the first Wema Bank 5 branches Metropolitan Area Network connectivity, various plant Local Area Network for Nigerian Bottling Company and various branch Network for First Bank of Nigeria. Subsequently, he became the over-all technical head that overseas the Chams card production centre, product development, Time and Attendance System. He was an Assistant General Manager and has served seven years as a management member before leaving Chams to found Comits Nigeria Limited. He has over fourteen years experience in the Design, Installation and maintenance of various Local/Wide Area Networks and Communications systems with expertise in Windows based and Unix operating system. Click here to view references for Mr. Gboyega Adeleye.
---
MR. KOLA SOKUNBI – (FINANCE DIRECTOR)
Mr. Sokunbi is a graduate and a Chartered Accountant with over nineteen years experience. With his vast experience in the use of computerised accounting packages, Kola is responsible for managing the company's accounts.
---
MR. 'DEROJU ODUSOTE – CHIEF ENGINEER
Mr. Aderoju Odusote (OND, BSc Electrical/Electronics) has over ten years experience in Microcomputer repairs and maintenance, Structured Cabling, Wireless LAN, WAN installation and maintenance. He worked in notable Information Technology firms namely: CCSL Ikeja, Lagos, Surulere and Excelorion Nigeria Limited before moving to Comits Nigeria Limited. He is an expert in Structured Cabling/Data Network and Access Control Systems.
Comits is an acronym for COMmunication and Information Technology Services. Comits is a limited liability company (RC. 402020) established for the provision of communication and information technology services. We commenced operations in April 2003.
---
---

COMPUTER MAINTENANCE & REPAIRS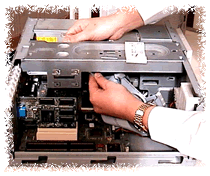 ---